Lately, I've been working a lot with Clickfunnels to develop landing pages or landings pages. I love to see how this blend of design and marketing can change the fate of an advertising campaign and I am doing this all for the readers of OBKICKSTART. Here is an honest review of clickfunnels for 2017 and how it can hurt or help you. 
Look, there are tools on the internet for everything nowadays, and I have given the task of doing this post that compares clickfunnels with other landings builders, such as LeadPages or SamCart. I will show you the strengths and weaknesses of each one, hoping to help you make the best decision that suits your own projects.
Today, I bring you this comparative analysis of some excellent tools, and I wanted to take advantage of this opportunity when one of my clients gave me access to clickfunnels. But what was cool was that my first  impression was "This is LeadPages is on steroids."
What is ClickFunnels?
This is an online landing page creation service developed by Russell Brunson and his team. It already has several years providing an excellent service and there are many users who support its good operation.
SIDE NOTE: If you are passionate about the art of sales, you can not miss Russell Brunson's book: DotCom Secrets: The Underground Playbook for Growing Your Company Online.
Unlike competitive products, which allow you to create separate and individual pages, ClickFunnels covers everything related to building different types of marketing funnels.
A funnel is basically a series of pages that your visitors pass to reach a certain goal and that could look like this: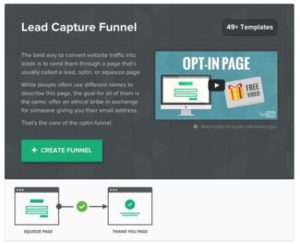 ClickFunnels
A simple funnel for capturing leads or directing to another page may consist of two pages that collect the user's email address and then sends it to a thank you page when you register. You can also create more sophisticated sales funnels, which are made up of several pages that do sales work to a visitor through each step of the funnel.
With ClickFunnels you can easily create: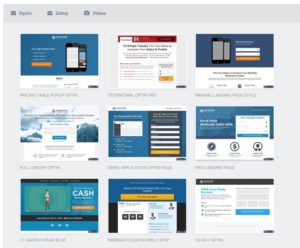 Optin / Lead Capture Funnels: You can use this to sell products and services, with the possibility of adding some upsells / downsells to your sales process.
Webinar Funnels: Do you like webinars? With this tool you can create them in minutes. Very useful to help people enroll in them.
Membership Sites: Generates a recurring income by creating a membership area for your products or services.
ClickFunnels comes with its own distinctive set of templates for each of the different funnel types:
You can also start from scratch and build pages directly using the ClickFunnels editor. This is where ClickFunnels really shines with its own light. It is very easy to place different pages in your funnel or tunnel as its interface is quite intuitive.
It does not require you to know coding and really anyone can use it and build a nice page. This is because all the changes in the design can be seen in real time. ClickFunnels allows you great flexibility in the creation of your pages. For example, you can easily change the location of the items you create and place them wherever you want. This is something that Leadpages does not allow you to do.
A Quick Introduction into ClickFunnels
Upon first using ClickFunnels, I was surprised by the strategy that they use to incorporate you into their platform. They offer you a completely free ClickFunnels T-Shirt when you enter to see the introductory training videos where they teach you how to use the platform. It takes a maximum of 10 minutes, and gives you a good overview of how everything works. (I now wear that shirt everywhere…even got a gig from wearing it in the gym!)
Creating your first funnel is super easy. Just click on the Add Funnels button and it will take you to a screen where you can see all the types of funnels available. Although the image of each option gives you a general idea of its functions, there is a video available where you can explain how it works in case you have doubts.
After choosing the desired funnel, you must click the Create Funnel button. Then you must give your funnel a name. Then, ClickFunnels will generate a set of pages based on the type of funnel you chose:

Pages can be removed from the funnel by moving the cursor over and clicking on the giant "X" next to each page. For each page in your sales funnel you can select one of the available templates. Each template is professionally designed and there is variety to choose the one you like the most. In addition, they are always adding new templates.
If by chance you do not find a template that matches what you want, I have found it very easy to make one of your own. For this you just have to take any template and go remove the sections you do not like or remove them all and start from scratch.
The basic component of a ClickFunnels page…
Is the section. A typical funnel can have a header section, content section, and a footer section. An extensive sales page could also include a section to highlight the specific characteristics of a product and other testimonials of satisfied users.
The sections are divided into rows of columns. You can choose from one to 6 columns. Finally, inside each column is where you can insert the various elements of ClickFunnels. ClickFunnels is flexible enough to support all kinds of designs (even you can clone step by step any landing you like). Basic widgets include titles, image, text, button, input forms and video elements.
You can also Include more advanced elements such as: Inscription, SMS, Surveys, Price tables, Video Unlocker, Comments of the readers, Blocks, FAQ, Countdown Timers, and Custom HTML.
When you move the mouse over any section, row or element, you will see that you can highlight it, and clicking on the right side of the editor you can make the changes you want in his properties. You can easily change the background colors, font types and color, text alignment and specific properties of an element such as the URL of an image you are inserting. With some practice everything becomes easier because this platform is very intuitive.
I have been pleasantly surprised by the publisher, as it achieves a good balance between flexibility and ease of use. If you are a seller of some product on the internet, you surely need to integrate a payment processor. ClickFunnels relies directly on CRM Backpack, InfusionSoft and Clickbank… and of course, Paypal and Stripe. In case you do not use any of these services, then I recommend using Stripe, in which you can register easily. I had no experience with Stripe until I tried it with ClickFunnels, but I found it to be an extremely simple way to accept Credit card payments. Once you've created your Stripe account, simply follow the instructions to link it to your ClickFunnels account, and that's it: every time someone goes through the payment order form of your funnel, it automatically activates to collect the payment.
ClickFunnels Tracking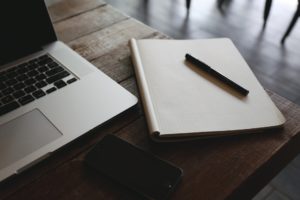 Clickfunnels is a complete platform. In addition to helping you create each page in your sales funnel (which is its main function) it also helps to control and check the performance of each page in the funnel. At the top of each page, you can see in real time the total number of visitors coming to each page in the funnel, the number of users who have clicked the button next to the page and the conversion rate.
You will also see a graph that shows the statistics for a specified period of time. A very important function, Split Testing, allows you to create several versions of your sales funnel to help you optimize the conversion rate of the funnels. If you click on the Split Test tab, you will be able to see the statistics of all the Split Test you are performing. Also, you will see the button to create a new one. The best way is to clone an existing page and then tweak it from there. Unfortunately,
ClickFunnels does not yet have the wide variety of advanced split testing features I've seen implemented in other products such as Thrive Leads. For example, it does not seem to have a way of automatically rotating the split tests. And I would like to see ClickFunnels choose a "winning" split tests after a statistically significant amount of data has been collected. When Actionetics and Backpack was first released, the main idea with which ClickFunnels was conceived was the creation of sales funnels. But Russell had major ambitions for his product, and that's how Actionetics and Backpack were born.
Actionetics aims to be a replacement for your favorite mail service provider. With Actionetics, you can see all those who have subscribed to your lists through your ClickFunnels, on the Contact Profiles page. Each of your potential clients generates an Action Score, which basically gives you an idea of which clients are most likely to become a conversion for you. You can use Actionetics to send series of messages and your editor allows you to design excellent emails.
Action Funnels is Actionetics' tool for creating automated responses with some marketing automation features. While some of its features are interesting, Actionetics still can not compete with an established e-mail service provider such as ActiveCampaign, Drip, ConvertKit, or Market Hero. Personally, I prefer an independent service, in which I'm not tied to an all-in-one solution. My team and I actually use 3 different types of services.
Backpack is one of the best ways to increase sales of your product is to have a good program that attracts some top affiliates. That's what Backpack can do for you. It is essentially a complete affiliate platform for ClickFunnels that can be attached to any of your created funnels. Within Backpack, you can add everything you need for affiliates to promote your product. Including affiliate links, copy email lists and banner ads. You can also set up your affiliate payments and see how well each of them is doing the job.
Pricing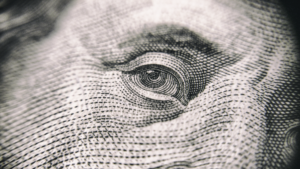 Over time, ClickFunnels has evolved its pricing plans. At first, they had 3 different price levels, but have now been consolidated at 2. The most economical ClickFunnels plan is $97 a month. In this plan, you will have access to all the funneling tools, although you have the limitation of only being able to create 20 funnels and 100 pages with up to 20,000 visitors.
Unfortunately, access to Actionetics and Backpack with this plan is not achieved with the standard plan. To do this, you will have to choose the Etison Suite plan. It has all the tools, including Actionetics and Backpack. You can also get an unlimited number of funnels, pages and visitors. However, this will cost you $297 a month, which is usually a lot for a beginner. Both plans have a free trial of 14 days so you can try before you buy.
The Pros of ClickFunnels:
makes it easy to create funnels with great fluidity and flexibility.

It integrates with leading e-mail and payment providers nice-looking templates for each type of funnel,

excellent training materials, and weekly seminars.

New features are added constantly.

There is a 2-level affiliate program, Free Trial, 14 days (free trial)
The cons of ClickFunnels:
Comparatively expensive, especially the Etison plan
Limits on the number of funnels, pages and visitors with the standard plan
Much material to learn, pronounced learning curve
Split testing is very basic
ClickFunnels vs. LeadPages
Since reading this review until now, you are probably wondering how ClickFunnels compares with LeadPages. LeadPages is currently the leader when it comes to building landings or landing pages.
One can easily guess who is using LeadPages because their templates are quite recognizable. Being so recognized is very popular among veteran marketer's. ClickFunnels is barely building his fame, but has the marketing power of Russell Brunson behind him.
Russell is preparing ClickFunnels to turn it into its flagship product, so what you see now is just a sample of what the product is going to be in the future. The strength of ClickFunnels is it's user-friendly editor. It is much more flexible than the LeadPages editor, although that has changed a bit with the new drag-and-drop editor.
With LeadPages, you can customize the different elements in a template, but you really can not move things. It is more or less limited by the template you choose and that is why all of your LeadPages and optin-boxes landing pages have a similar style look. The limitation of flexibility is not necessarily a negative thing, because it makes page building a quick process. And that's where LeadPages truly excels.
However, some people want greater control to create pages with their exact specifications. That's the power that ClickFunnels gives you. But this advantage adds complexity. ClickFunnels certainly has a learning curve greater than LeadPages. The other main advantage is that ClickFunnels creates full sales funnels and throws all your stats.
Through each stage of your funnel can be tracked. With LeadPages, only individual pages can be created. So creating initial sales pages is simple, but what about adding an order form? Or the Upsells and Downsells? LeadPages can not do that, while ClickFunnels can.
ClickFunnels vs. SamCart
There is another competitor: SamCart. It is a product that allows users to create beautiful, high conversion pages for payment and shipping. What gives you much in common with ClickFunnels. SamCart is geared towards placing the sale of your product fast. It is compatible with both Stripe and Paypal and comes with 17 different payment page templates that can be customized. In terms of flexibility, there is no comparison between ClickFunnel's drag-and-drop editor and SamCart's.
ClickFunnels is infinitely more powerful and you can design any payment page you can dream of. But again, there is a big difference in learning curves.
Do you want to create the perfect design or are you a simple user who just wants to use a proven template to start selling right away? SamCart comes with a variety of tools to increase the value of each customer in your funnel. You can add orders, which allow you to submit an additional offer on your payment page. Or, you can easily add additional Upsells (or downsells) to your funnel to present to your customer after buying the main product. You can also easily create coupons for the product, which is another great way to increase conversions.
If the ClickFunnel affiliate system seems to appeal to you, SamCart also has its own affiliate center. Both products offer everything you need to create a great affiliate program. One advantage I like about SamCart about ClickFunnels is the fact that there are no restrictions on your plans. ClickFunnels limits the number of funnels that can be created and the number of visitors to them. With SamCart, there are no such limits. You can sell unlimited products in your account and send as much payment traffic to your pages as you want.
Final conclusion
The path you take will depend on the needs of your business. If you do not care about the learning curve and you want an all-in-one solution to sell your product and be able to customize each step, then ClickFunnels is certainly a great choice. If you are not so tech-savvy or just want to start Sell something quick, then I would suggest giving SamCart a try but with all the FREE training clickfunnels gives you, you might as well just go for it, and fully commit to your business.
However, if you want to do is collect optin emails through pop-ups and landing pages, I would choose LeadPages or Thrive Leads. Although you can do the same with ClickFunnels, I do not consider that you can justify the high monthly price if you are not using its more advanced features.
In the end, I recommend you try ClickFunnels to see if you like it. They offer a free 14-day trial, so you can review all the features and see how it works for you.
Clickfunnels Training
Clickfunnels Training with Russell Brunson
How to sell without Selling using Clickfunnels